Simple Honda Air Ride Kit for CBR Fat Tire
Our Simple Honda Air Ride Kit is made from the same quality components as our Bleed Feed system. Allows you to control your ride height while remaining easily adjusted at the flip of a switch for complete comfort for the riders weight or road conditions. Mono shock system will gives you up to approximately 4″ lift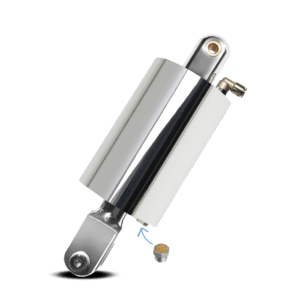 The system includes:
One air cylinder machined from 6061 T-6 billet aluminum.
Air-control valve.
DOT- approved 1/4″ line and fitting.
Switch harness.
Hardware and line cutter.
System comes complete with one year warranty.
Made in the U.S.A.
Honda air ride kit for 250, 300, 400, 500, 600, Hurricane, 650F, 750F Hurricane / Super Aero, 900RR Fireblade, 893 cc, 919 cc, 929RR, Fireblade, 954RR, 1000RR, 1000F, 1100XX Super Blackbird models.