Description
Sportster/DYNA Air Ride Suspension – Available in Chrome or High Gloss Black Finish
Platinum's Harley Sportster/DYNA Air Ride Suspension kit allows you to control your ride height and rebound. Controlled by positive pressure at all times, this system is easily adjusted at the flip of a switch for complete comfort for the riders weight or road conditions.  Side mounted shock gives up to 3″ of lift.  Fits models 1985 to current.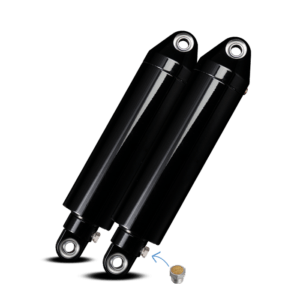 The system includes:
Two air cylinder machined from 6061 T-6 billet aluminum.
Air-control valve.
DOT- approved 1/4″ line and fitting.
Switch harness.
Air compressor.
Hardware and line cutter.
System comes complete with one year warranty.
Made in the U.S.A.
View all Harley parts.
View our complete catalog.
Also available at additional cost in powder coat, anodize and chrome.
Have Questions About Motorcycle Air Ride Kit?
Have a question whether or not Platinum's Harley Sportster/DYNA Air Ride Suspension kit works for you? The expert technicians at Platinum are extremely knowledgeable and have been serving the motorcycle industry for over 15 years. Furthermore, they are well versed in all aspect of improving the ride and lowering of your Motorcycle Air Ride Kit.
Call us at 714-871-2424 and talk to a Platinum Air Suspension team member. We will gladly help you refine your vision and create a plan of attack and find all the RIGHT parts you will need to convert your motorcycle into a low and mean machine.