To become a Platinum Air Suspension dealer, all you have to do is fill out the application by clicking on the image below and then send it to info@platinumairsuspension.com.
We must receive all of the following items from your company in order to qualify for dealer pricing.  Your application will not be processed if any information is missing.  Having said that, please check that you have included everything before faxing or mailing your application so that you do not waste our time or yours.
How To Become A Platinum Air Suspension Dealer
A completed Dealer Application Form
A copy of business license / resale license
Your resale tax number
You must fill out a resale tax form if you are in California.
A picture of your place of business or a copy of your company's yellow page ad
A copy of your letterhead or business card
A completed Credit Card Authorization Form
The minimum buy in is $1500
If you have any questions, please don't hesitate to to call (714) 871-2424 or email us at info@platinumairsuspension.com.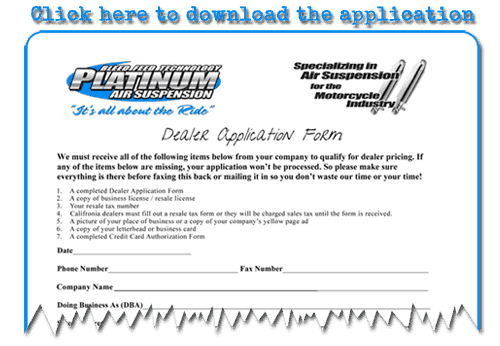 Customer Service
Most of all, the team at Platinum Air Suspension cares about your Softail Air Ride. Platinum Air Suspension professional staff are eager to answer those questions. We will always give you the personal service you deserve and answer the questions you have in regards to lowering your Motorcycle. At Platinum Air Suspension – It's all about the ride.
For this reason, let us help you determine the aftermarket and motorcycle parts you will need to lower your Harley Davidson Softail or custom applications.