Description
Platinum Fitted Hat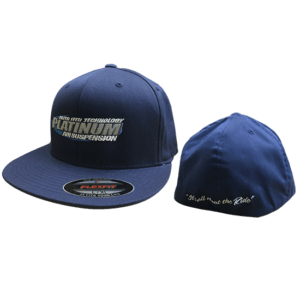 This fitted Platinum Fitted Hat is a perfect way to show your Platinum allegiance!  Available in navy blue or black.  Choose from small to x-large.
Platinum Bleed Feed Systems
One of the company's bestselling packages is its 'Bleed Feed' system, which allows the rider to control both ride height and rebound.  The system is controlled by positive pressure at all times. It is  also easily adjustable at the flip of a switch for complete comfort for the rider's weight or road conditions.  The unit designed for use on all FL bagger models is the most popular of our bleed feed kits. Standard options include chrome, polished, powder coated or satin finishes. Powder coating in specific colors available by special request.
View our complete catalog.