Front Air Ride Kit – Cylinders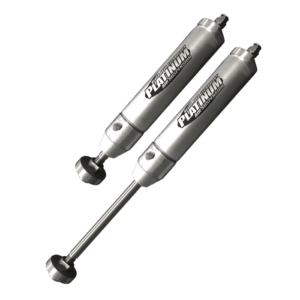 Front Air Ride Kit includes:
(2) Air cylinders.
Air control valve.
DOT-approved 1/4" line and fittings.
Air compressor.
Hardware
Gives you 3 to 4 inches of travel.
View all Accessories now.
Today it is common to find air suspension systems on motorcycles, even as OEM equipment. Platinum Air Suspension is one of the forerunners in the market. We have air ride systems for all Harley Davidson, Victory, Can-Am, Metric, Street Bikes, Boss Hoss, Indian and custom applications.
One of the company's bestselling packages is its 'Bleed Feed' system, which the rider to control both ride height and rebound. The system is controlled by positive pressure at all times and can easily be adjusted at the flip of a switch for complete comfort for the rider's weight or road conditions. The Bleed Feed system includes air cylinders machined from 6061 T-6 billet aluminum, air-control valve, DOT- approved 1/4in line and fitting, plus switch harness, air compressor, hardware and line cutter.
View our complete catalog online.