Description
FLH, FLHT Front Pucks And Rear Air Ride Package – Available in Chrome or High Gloss BlackFinish
Our FLH, FLHT Front Pucks And Rear Air Ride Package allows a rider to control their ride height with positive lift however it doesn't provide the same rebound control as our Bleed Feed system. Platinum Air Suspension offers a Simple system for most H-D, V-Twins.  Side mounted shock gives up to 4.25″ of lift.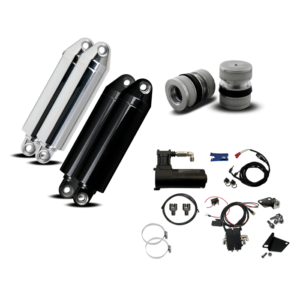 The system includes:
Two air cylinder machined from 6061 T-6 billet aluminum.
Two 41mm or 49mm pucks.
Air-control valve.
DOT- approved 1/4″ line and fitting.
Switch harness.
Air compressor.
Hardware and line cutter.
For bike models 1985 to current.
Min. Retracted 9 1/4"
Max. Extended 13.5"
Rear Lift: 4 1/4"
Shock Travel: 4 1/4"
Diameter: 2 1/2"
*ABS applications may vary due to installation.
System comes complete with one year warranty.
Made in the U.S.A.
View all Front Air Ride products.
Black Out Option Customers' now have the option to choose between chrome and black. Everything is blacked out from cyclinder to rod. It's tough and can handle the wear and tear.
View our complete catalog.
Questions?
Have a question whether or not Platinum's Air Suspension kits work for you? The expert technicians at Platinum are extremely knowledgeable when it comes to your bagger. Our technicians have been serving the motorcycle industry for over 15 years. Furthermore, they are well versed in all aspect of improving the ride and lowering of your bagger.
Furthermore, call Platinum Air Suspension and talk to a team member. We will gladly help you refine your vision and create a plan of attack and find all the RIGHT parts you will need to convert your motorcycle into a low and mean machine.
Customer Service
Most of all, the team at Platinum Air Suspension cares about your air ride. Platinum Air Suspension professional staff are eager to answer those questions. We will always give you the personal service you deserve and answer the questions you have in regards to lowering your Motorcycle. At Platinum Air Suspension – It's all about the ride.
For this reason, let us help you determine the aftermarket and motorcycle parts you will need to lower your custom applications.