Boss Hoss Motorcycle Photo Gallery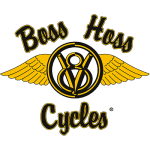 Our Boss Hoss gallery below shows some of the bikes in which Platinum parts were been used.  Click on each image below to enlarge.  Want to see more? Shop online now and find custom air suspension parts and apparel!
About
Boss Hoss Cycles is an American motorcycle manufacturer, founded by Monte Warne in 1990. The company is based in Dyersburg, Tennessee. Boss Hoss manufactures special high-performance motorcycles and trikes. Cycles feature V8 engines, produced by Chevrolet, ranging in size from 350 cubic inches (5.7 liters) to 502 cubic inches (8.2 liters). The also include semi-automatic transmissions, making them by far the most powerful motorcycles in the world. By the mid-1990s, Boss Hoss was selling 300 vehicles per year. As of 2006, Boss Hoss has sold over 4,000 vehicles. Boss Hoss bikes and trikes are popular for their power, size and low vibration. This vibration-free acceleration is due to the high number of cylinders combined with very tall gears of the semi-automatic transmission. Some dealers and riders even affectionately refer to these bikes as a big scooter. Wikepedia
Platinum Bleed Feed Systems
One of the company's bestselling packages is its 'Bleed Feed' system, which allows the rider to control both ride height and rebound. It is also easily adjustable at the flip of a switch for complete comfort for the rider's weight or road conditions. The unit designed for use on all FL bagger models is the most popular of our bleed feed kits. Standard options include chrome, polished, powder coated or satin finishes. Powder coating in specific colors available by special request.