Description
Front Air Ride Kit – Pucks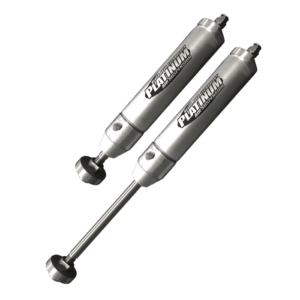 Front Air Ride Kit includes:
(2) Air pucks.
Air control valve.
DOT-approved 1/4" line and fittings.
Air compressor.
Hardware
Gives you 3 to 4 inches of travel.
View all Accessories now.
Today it is common to find air suspension systems on motorcycles, even as OEM equipment. Platinum Air Suspension is one of the forerunners in the market. We have air ride systems for all Harley Davidson, Victory, Can-Am, Metric, Street Bikes, Boss Hoss, Indian and custom applications.
One of the company's bestselling packages is its 'Bleed Feed' system, which the rider to control both ride height and rebound. The system is controlled by positive pressure at all times and can easily be adjusted at the flip of a switch for complete comfort for the rider's weight or road conditions. The Bleed Feed system includes air cylinders machined from 6061 T-6 billet aluminum, air-control valve, DOT- approved 1/4in line and fitting, plus switch harness, air compressor, hardware and line cutter.
View our complete catalog online.
Questions?
Have a question whether or not Platinum's Air Suspension works for you? The expert technicians at Platinum are extremely knowledgeable when it comes to your bagger. Our technicians have been serving the motorcycle industry for over 15 years. Furthermore, they are well versed in all aspect of improving the ride and lowering of your bagger.
Furthermore, call Platinum Air Suspension and talk to a team member. We will gladly help you refine your vision and create a plan of attack and find all the RIGHT parts you will need to convert your motorcycle into a low and mean machine.
Customer Service
Most of all, the team at Platinum Air Suspension cares about your air ride. Platinum Air Suspension professional staff are eager to answer those questions. We will always give you the personal service you deserve and answer the questions you have in regards to lowering your Motorcycle. At Platinum Air Suspension – It's all about the ride.
For this reason, let us help you determine the aftermarket and motorcycle parts you will need to lower your custom applications.