Description
AR-­70/49S Fork Tube Air Ride Kit 2014 and up Harley Davidson Baggers
The AR-­70/49S Fork Tube Air Ride Kit adds air ride to your 49mm front fork tubes (fits bikes 2014 and up). Turn your stock 49mm fork tubes into a custom air ride system!  With this simple kit  just add the pistons and the included cap!  Works as a great add-on with an rear air ride system!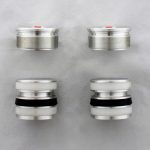 Turn your stock 49mm fork tubes into a custom air ride system.
Features:
one pair of Air pistons complete with bushings and seals
a pair of fork caps with air fittings for stock 49mm legs
a pair of 49mm springs
6 feet of air line
View other accessories.
View our complete catalog.
Questions?
Have a question whether or not Platinum's Air Suspension air ride kit works for you? The expert technicians at Platinum are extremely knowledgeable when it comes to your Air Suspension. Our technicians have been serving the motorcycle industry for over 15 years. Furthermore, they are well versed in all aspect of improving the ride and lowering of your bagger.
Furthermore, call Platinum Air Suspension and talk to a team member. We will gladly help you refine your vision and create a plan of attack and find all the RIGHT parts you will need to convert your motorcycle into a low and mean machine.
Customer Service
Most of all, the team at Platinum Air Suspension cares about your air ride. Platinum Air Suspension professional staff are eager to answer those questions. We will always give you the personal service you deserve and answer the questions you have in regards to lowering your Motorcycle. At Platinum Air Suspension – It's all about the ride.
For this reason, let us help you determine the aftermarket and motorcycle parts you will need to lower your custom applications.