Description
97C Air Compressor Kit Chrome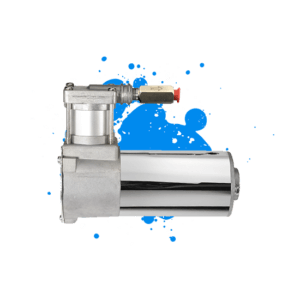 Our 97C Air Compressor Kit Chrome offers a light duty solution for smaller air requirements and are meant to fill no larger than a 1.0 gallon air tank. Multiple duty cycle, mounting, compressor finish and intake options are available depending on model.
Specifications:
12-Volt /24-Volt
Permanent Magnetic Motor
Duty Cycle: 10% @ 100 PSI
Max. Working Pressure: 130 PSI
Max. Air Tank Size: 1.0 Gallon
Max. 12V Amp Draw: 12 Amps
Max. 24V Amp Draw: 7 Amps
Ingress Protection Rating: IP54
Dimensions: 5.6″L x 2.2″W x 4.4″H
Net Weight: 2.25 lbs.
Have Questions About Our 97C Air Compressor Kit Chrome?
Have a question whether or not Platinum's Air Ride Suspension kits work for you? The expert technicians at Platinum are extremely knowledgeable when it comes to your Air Ride. Platinum Air Suspension technicians have been serving the motorcycle industry for over 15 years. Furthermore, they are well versed in all aspect of improving the ride and lowering of your bagger.
Furthermore, call Platinum Air Suspension and talk to a Platinum Air Suspension team member. We will gladly help you refine your vision and create a plan of attack and find all the RIGHT parts you will need to convert your motorcycle into a low and mean machine.
1-714-871-2424
Customer Service
Most of all, the team at Platinum Air Suspension cares about your bagger. Platinum Air Suspension professional staff are eager to answer those questions. We will always give you the personal service you deserve and answer the questions you have in regards to lowering your Motorcycle. At Platinum Air Suspension – It's all about the ride.
For this reason, let us help you determine the aftermarket and motorcycle parts you will need to lower your bagger or custom applications.