97C Air Compressor Kit Chrome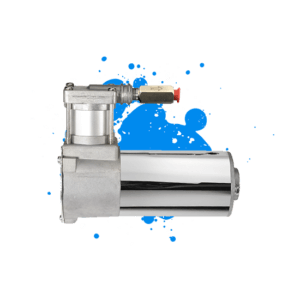 Our 97C Air Compressor Kit Chrome offers a light duty solution for smaller air requirements and are meant to fill no larger than a 1.0 gallon air tank. Multiple duty cycle, mounting, compressor finish and intake options are available depending on model.
Features:
Omega Bracket
Check Valve
Vibration Isolators
Mounting Hardware
Specifications:
12-Volt /24-Volt
Permanent Magnetic Motor
Duty Cycle: 10% @ 100 PSI
Max. Working Pressure: 130 PSI
Max. Air Tank Size: 1.0 Gallon
Max. 12V Amp Draw: 12 Amps
Max. 24V Amp Draw: 7 Amps
Ingress Protection Rating: IP54
Dimensions: 5.6″L x 2.2″W x 4.4″H
Net Weight: 2.25 lbs.