Description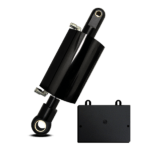 The Bleed Feed Softail Eight Mono Shock Kit is not the only system in the Platinum Air Suspension line-up as it also offers the Simple system, which features the same high-level of componentry as the Bleed Feed but does not offer rebound control. However, users are still able to control the ride height through pump and release pressure. The most popular of the Bleed Feed kits is the unit designed for use on FL Bagger models, and like all of Platinum's offerings there is a wide choice of finishes on the shocks. As standard there is the option of chrome, polished, powder coated or satin finishes and by special request powder coating in the specific color choice of the customer.
Our Softail Eight Mono Shock Kit is Perfect for:
FXDR / FXDR Softail
FXD Dyna Super Glide
FXDB Dyna Street Bob
FXDG Dyna Glide/Sturgis
FXDL Dyna Low Rider
FXDWG Dyna Wide Glide
FXDX Dyna Super Glide Sport
FXDXT Super Glide "T" Sport
FXE Superglide Electric Start
FXEF Fatbob
FXLR FX Lower Rider/Evolution
FXR Rubber Mount Super Glide
FXRS FXR Sport
FXRS-CON FXR Sport Convertible
FXRS-SP Low Rider Sport Edition
FXRT FXR Touring
FXS Low Rider/Shovelhead
FXSB Lowrider Belt
FXST Softail
FXSTB Night Train
FXSTC Softail Custom
FXSTD Softail Deuce
FXSTS Springer Softail
FXWG Wide Glide
FXC Rocker
FXCW Rocker (w/ 2-up optional seating)
FXC breakout
For you Cali guys and those EPA regulations. Simply remove the canister from transmission, reinstall EPA Canister to the Platinum Compressor and Valve Box, then bolt to transmission.