Description
Platinum offers the best Harley Air Ride Kit on the Market – Available in Polished or High Gloss Black Finish
This Harley Air Ride Kit is Fully Adjustable for your Evolution Softail years 1984 to 1999. It gives you up to approximately 4" to 5" of lift and dump depending on stock or aftermarket evolution custom softails or special constructions.
Our air ride system is made from the same quality components as the rest of our products. The front air ride system will allow you to control your air ride lift and dump approximately 4′ depended if you need this amount of travel.This system is fully adjustable independently by two separate switches for the front and rear suspension.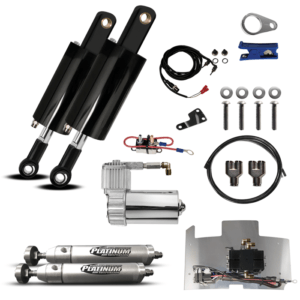 The system includes:
Two rear air cylinders and two front air cylinders.
Stainless steel rods and end caps.
Stainless steel splashguard with air-control valve assembly.
DOT- approved 1/4" line and fitting.
Switch harness.
Hardware and line cutter.
One year warranty.
Made in the U.S.A.
View all Accessories.
*ABS applications may vary due to installation.
Have Questions About Air Ride for Harley Davidson Evolution?
Have a question whether or not Platinum's Air Ride for Harley Davidson Evolution kit works for you? The expert technicians at Platinum are extremely knowledgeable when it comes to your Air Ride for Harley Davidson Evolution. Platinum Air Suspension technicians have been serving the motorcycle industry for over 15 years. Furthermore, they are well versed in all aspect of improving the ride and lowering of your Softail.